---
I like this one and its symbolism,
good work!
greetings
BeN1
if hell's warm, then let's all hope for heaven be cold
---
Posts: 1267
Joined: 19 Dec 2010 15:42
Location: The Rookery, 3rd Horse Chestnut along, St Johns, Britain. Teacher leave our nuts alone!
Contact:
Indeed BeN1 is once again absolutely spot on in his appreciation, this contains several layers of meaning.....it uses the object - a human skull with frontal and parietal bones disintegrating - to imply something greater than its literal meaning. Redbeck
Resized version below:
---
@
Redbeck
Danke sehr, I really appreciate it.
@
romding
I felt so free to remove the clock and the battery on top of the drawing in the cropped version of Redbeck, hope it's okay for you: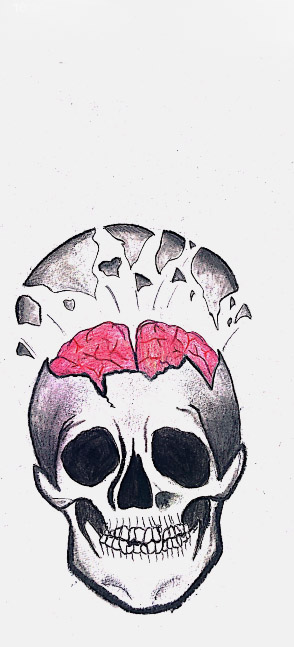 greetings
BeN1
if hell's warm, then let's all hope for heaven be cold
---
Users browsing this forum: No registered users and 16 guests